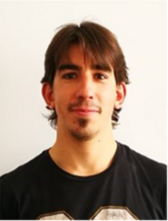 Education:
Dr. Iñaki Gomez earned his B.S. (2013) in the University of the Basque Country and specialized in macromolecular science. He developed a new kind of Poly(ionic liquids) with chlorocuprate complexes as counter anions during his M.Sc. (2014) under the supervision of Prof. David Mecerreyes. This year he started his PhD in the same group in collaboration with CIDETEC Energy Storage within the IPES European project, developing novel sulfur based polymers as active material for LiS batteries. He earned his PhD in October of 2018.
E-mail: igomez@cidetec.es
Phone: +34 934309022
Address: Parque Científico y Tecnológico de Gipuzkoa Pº Miramón, 196, 20014 Donostia - San Sebastián, SPAIN
Web: CIDETEC; CIDETEC Energy Storage
Twitter: @XXXX
Researchgate: XXXX
Linkedin: XXXX
Research:
In the E-magic project Dr. Gomez will be focused on the optimization, assembly and testing of rechargeable pouch cell prototypes as well as sulfur cathodes based on high sulfur content polymers for magnesium batteries.