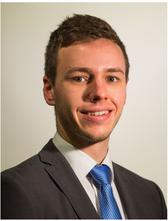 Education:
Joachim Häcker earned his B.Sc. in Material Science 2012 at the university of Stuttgart. During the consecutive master course, he focused on functional materials for energy technology. His master thesis in the group of Prof. Anke Weidenkaff was about the synthesis and characterization of oxynitride fluorides for solar water splitting application. After finishing master course in 2016, he started his PhD at the German Aerospace Center (DLR) in Stuttgart in the group of Norbert Wagner. Therein, he investigates electrode-electrolyte interfaces in magnesium-sulfur batteries applying impedance spectroscopy to gain deeper insights in the mechanisms. Based on that, novel cathode and anode compositions are developed and examined.
E-mail: joachim.haecker@dlr.de
Phone: +497116862749
Address: Pfaffenwaldring 38-40, 70569 Stuttgart, GERMANY
Web: Electrochemical Energy Technology (ECE), Battery Technology
Linkedin: Joachim_Häcker
Research:
In the E-magic project J. Häcker will focus on the stability investigation of current collectors and separators in different electrolytes. Furthermore, he will be involved in sulfur cathode development, Mg-S cell cycling, EIS characterization and post mortem analysis.