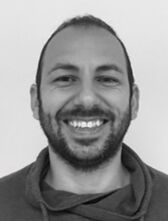 Education:
: Rafael Trócoli joined as Marie Curie Cofund fellow to the group of Prof. Dr. M. R. Palacín at Institut de Ciència de Materials de Barcelona in 2017 (ICMAB-CSIC) and he has been recently incorporated to the E-magic project. He started his research career in the Department of Inorganic Chemistry at the University of Córdoba (Spain) in 2012 under the guidance of Prof. Dr. Julian Morales working with Li-ion batteries. Then, he moved to Germany to work in the group of Prof. Fabio La Mantia (Ruhr Universität, Bochum) firstly as postdoctoral research and then leading an industrial project with BayerMaterialScience. Before his incorporation at ICMAB, Rafael did a second postdoctoral stage in the Nanoionics and fuel cell group (IREC, Barcelona, Spain) headed by Prof. Dr. Albert Tarancón where he focused in the development of all solid state microbatteries. Dr. Trócoli has coordinated the battery section of several research projects, obtained the 3rd position on the YESS award 2015 and has been hired as an expert evaluator for the REA agency. Dr. Trócoli is seeking to apply his knowledge on electrochemistry and materials design to develop novel cathodes for Mg batteries as postdoc for the E-magic Project.
E-mail: rtrocoli@icmab.es
Phone: +34 935801853
Address: Carrer dels Til·lers s/n, Campus de la UAB, 08193 Bellaterra, Barcelona, Spain
Web: ICMAB
Researchgate: Rafael_Trócoli
Linkedin: Rafael_Trócoli
Research:
In the E-magic project Dr. Trócoli will focus on the development of novel cathode materials for rechargeable Mg batteries.