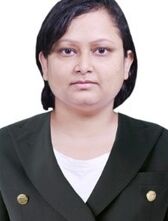 Education:
Dr. Kundu is currently a post doctoral research fellow since December 2018 in the department of Material Science and Engineering, Technion, Israel Institute of Technology, Israel under the supervision of Prof. Yair Ein-Eli. She has also received PBC post doctoral fellowship in Technion during 2019-2021. She received her PhD degree in Chemical Science in April, 2018 under the supervision of Prof Vijayamohanan K. Pillai from CSIR-Central Electrochemical Research Institute (CSIR-CECRI), Tamil Nadu, India. During her PhD, she worked on synthesis and characterizations of graphene based nanomaterials for energy applications.
E-mail: kundusumana@yahoo.com
Phone: +972-586320275
Address: Department of Materials Science & Engg.
Web: https://caegroup.net.technion.ac.il/members/dr-sumana-kundu/
Twitter: @Zhenyou2
Researchgate: https://www.researchgate.net/profile/Sumana-Kundu-4


Research:
In the E-magic project Dr. Kundu is working on the development of solid electrolytes for magnesium batteries, fabrication of all-solid-state battery and testing their performance.