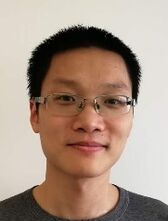 Education:
Dr. Zhenyou Li did his M.S. and PhD in University of Chinese Academy of Sciences under the supervision of Prof. Junhui Xiang. From 2014-2016, he worked as a visiting PhD student in Prof. Rüdiger Klingeleräs group in Heidelberg University. He worked on transition metal sulfide cathodes for lithium ion batteries and studied the structural-performance correlations. He received his PhD degree in 2016.
E-mail: zhenyou.li@kit.edu
Phone: +4972160828972
Address: Hermann-von-Helmholtz-Platz 1. 76344 Eggenstein-Leopoldshafen, GERMANY
Web: Energy Storage Systems
Twitter: @Zhenyou2
Researchgate: Zhenyou_Li
Linkedin: Zhenyou_Li
Research:
In the E-magic project Dr. Li will focus on the development of novel insertion cathode for rechargeable Mg batteries.