The model presented in this article provides basis for the theoretical analysis and optimization of magnesium electro...
It demonstrated a reversible anionic redox chemistry of VS4‐based cathodes for multivalent batteries. Ex situ and...
It demonstrates a facile strategic synthesis approach to tailor the crystal structure and morphology of NVPF. Learn m...
In this work, we design and implement a workflow, in the framework of Density Functional Theory, which autonomously i...
Study of Chevrel phase electrodes in two electrolyte solutions which are important for secondary Mg batteries. Learn ...
The present study shows the electrochemical performance of a room-temperature magnesium/sulfur (Mg/S) battery with a ...
Battery systems based on multivalent metals such as magnesium (Mg) and calcium (Ca) have attracted substantial intere...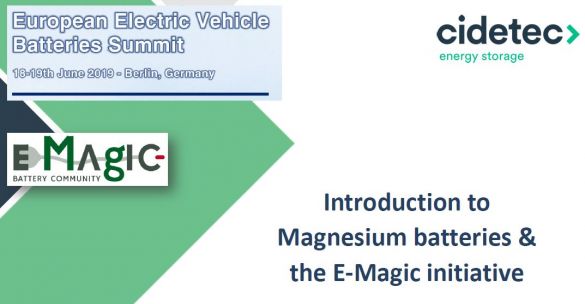 ACI's European Electric Vehicle Batteries Summit (18th & 19th June 2019, Berlin, Germany) Oscar Miguel Crespo (Dire...
The study clearly shows that the physical and electrochemical properties of each layer in a bilayer configuration are...
On 23 January, the eMAGIC consortium met at the CIDETEC headquarters in Donostia-San Sebastián. This international in...